På fatet ligger ett antal små härvor av ett glansigt mohairsilke. Nystanen är gjorda med hjälp av en nystpinne. Det blir nystan där man kan ta tråden både inifrån och utifrån nystanet.

On the dish are some small skeins of glossy mohairsilk. The balls are made with the wodden peg. From the balls you can take the yarn both from inside and outside.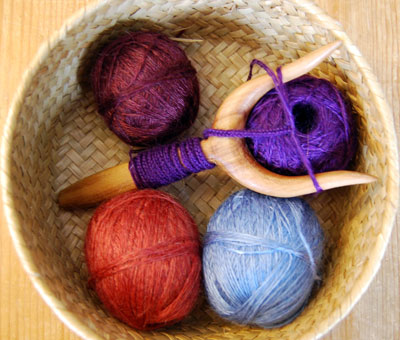 Garnet ska användas för att göra snoddar till små börsar. För att få rätt tjocklek måste jag ha två trådar. Min slynggaffel (slyngtjauge på gotländska) hittade jag en gång bland min farmors textilredskap.
The balls will be used to make drawstrings for pouches. To get the right thickness I must use två threads. My lucet (chain fork, hayfork) I once found among my grandmothers textile tools.