Under Dubbelkriget i Attemark vävde jag ett par band för en beskrivning om att väva på sommaren – den kommer som Månadens väv i juli. Ett smalt band vävde jag med min örhängesgrind. Med moulinégarn, enkeltrådar, blev det ett smalt tunt band. Två band i olika färger blev ett bokmärke.
During the Doublewars in Attemark I woved a couple of ribbons for a summer weaving description – The weave of the month for july. I woved a narrow ribbon with my ear ring rigid heddle. With mouliné yarn, single threads, I got a thin, narrow ribbon. Two ribbons in different colours became a bookmark.


Lunetta visade hur man kan väva utan att ha något att fästa varpen i.
Lunetta showed how to weave without anything to fastened the warp in.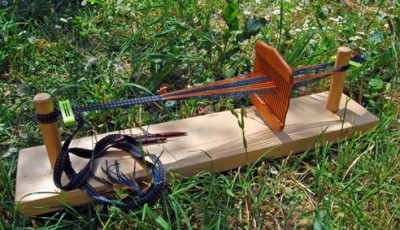 Vill man inte sitta fastspänd fungerar en bräda med två pinnar bra.
If you don´t like to be fastened, a board with two pegs will have a good function.