Den första asken jag gjorde är klädd med ett tunt tyg. Det gick lätt att forma. Till den andra tog jag ett tjockare och lösare vävt tyg. Det var svårare.
Nu ville jag prova med ett tyg mittemellan. Det tyg jag har mest bitar av. Det är restbitar från mässhakar som jag har vävt. Ett damasttyg vävt med kamgarn 20/2.
The first box I made is dressed with a thin fabric. It was easy to work with. For the second I took a thicker fabric, more looser woven. That was more difficult.
Now I wanted to try out a fabric midway. It is the fabric I have most pieces of. It is leftover from chasubles I have woven. A damask woven fabric of worsted yarn 20/2.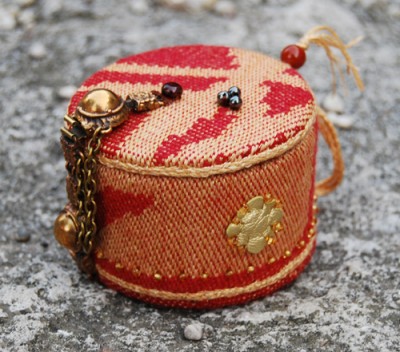 Asken är klädd med tyg från biskopskåpan till Skara. Den är knäppt med några länkar från ett trasigt Kalevala-armband.
The box is dressed with fabric from the bishops cope to Skara. The box is shut with some links from a broken Kalevala bracelet.
Kvar fanns två små askar. Så små vill jag inte gör fler gånger! Här har jag testat ett annat sätt att stänga asken. Det är så jag tolkar ett av de medeltida originalen.
Left was two small boxes. So small boxes I will not do again! Here I have tested another way to shut them. That is the way I understand one of the medieval originals.
Mina fem askar.
My five boxes.