Turun Keskiaikaiset markkinat 2012
Vi har nu deltagit i vår första marknad. Och den var i Åbo, Finland. Vi var där tillsammans med Iloinen Joutsen – Merry Swan och tog plats mitt emellan deras nya tält och Kerstins medeltidsmode
We have now been at our first market ever. It took place in Turku, Finland . We were there with Iloinen Joutsen – Merry Swan and settled down between them and Kerstins medeltidsmode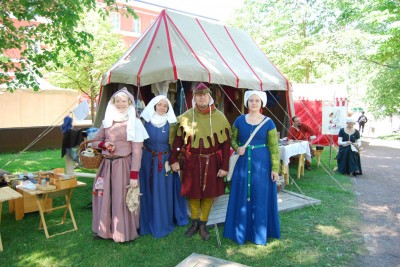 Elina – Mervi – Riku – Saara
Det var fantastiskt att uppleva alla som kom för att hjälpa till att resa tälten kvällen innan marknaden började. Den varade i fyra dagar – torsdag till söndag.
Quite fantastic to see all who came to give a hand to rise the tents the evening before the market opened. The market dured for four days – thursday to sunday.


Eftersom vi kommit på onsdag morgon med färjan från Stockholm hade vi hela dagen på oss innan vi skulle träffa de andra. Vi gick till Gamla Stortorget. Där höll en mängd aktörer på med att repetera de olika tablåer som skulle framföras under marknadsdagarna.

As we had arrived early on wedensday with the ferry from Stockholm we had the whole day to spend before meeting the others. We strolled along on the Vanha Suurtori. There a lot of actors were rehearsing their performances during the market days.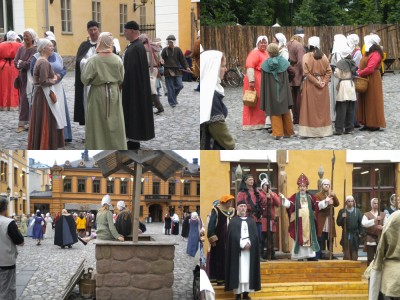 Marknaden bredde ut sig från parken vid domkyrkan, längs Aura å och bort till Aboa Vetus. Och så klart inne på Stortorget. Merry Swans läger var klart det vackraste och det verkade bli en samlingspunkt för en hel del reenactare i dräkt.
Eftersom vi inte kan tala någon finska fick vi ha det vi hade att sälja hos Merry Swan. Själva satt vi och gjorde en del hantverk under dagarna. Det gick bra att tala med besökarna på svenska eller engelska. Om det inte gick så bra hade vi alltid Jiri vid sidan om oss. Han gav oss hjälp på finska. Han hörde också till lägret, liksom Mari.
The market was spread out from the park at the cathedral, along the river Aura up to Aboa Vetus. And of course on the Vanha Suurtori itself. The camp of Merry Swan was of course the most beautiful and seemed to be a gatheting point for a lot of reenactors.
As we speek no finnish we were allowed to sell our goods at the Merry Swan's. Ourself we were sitting down making some "pysseli" during the days. It was easy to speek with the visitors on either swedish or english. If it didn't worked out we had always Jiri at our side. He gave us the help on finnish. He belonged to the camp, as Mari did.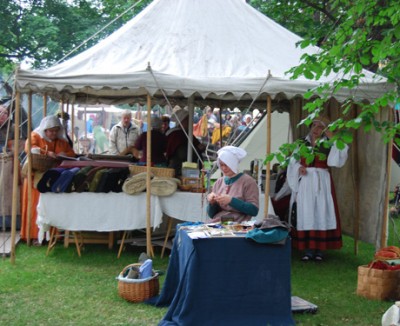 Mari

Jiri, Martin, Åsa
En av kvällarna på marknaden var det ett resease-party. Några av vännerna hade skrivit en medeltida kokbok. Vi förstod att alla ex som förlaget tagit med sålde slut under marknaden. Vi kunde studera bilderna i boken, men inte läsa den finska texten. Kanske kan boken ges ut på ett språk vi kan läsa. Det står mer om boken på vännernas bloggar.

One of the market days there was a release party. Some of our friends had made a book on medieval cookery. We heard that all the copies the publisher had brought to the market were sold. We could study the pictures, but not read the finnish text. Perhaps the book will be published in a language we can read. There is more to be read about the book on the websites of our friends.

Och så mötte vi några ur den tyska gruppen MIM – Menschen in Mittelalder.
And so – we met some from the german group MIM – Menschen in Mittelalder.

Tänk vad ett möte på Dubbelkriget i Attemark har fört med sig. Vi hade träffat Mervi och Elina och Saara och Mari där. Och så kom det sig att vi var med dem alla på medeltidsmarknaden i Åbo. Det här vill vi gärna göra fler gånger!

Amazing how a meeting at the Double Wars in Attemark got consequensis. We had met Mervi and Elina and Saara and Mari there. And so it came that we were with them all on the Turku Medieval Market. This we surely want to do again next year.