Tiden går fort! Den här hösten har vi varit på resa mest hela tiden. Vävsömsdynan är färdigbroderad, men jag har bestämt att inte tvätta och valka den förrän dynan med det andra gotlandsmönstret är färdigt.
Lia de Thornegge fick en bandgrind av Martin. Med den gjorde hon ett innovativt bokmärke med TRE snoddar. Hon vävde först en bit med bandgrinden 3 x 5 öglor. Drog ur dem och flätade snoddarna. En så god idé måste testas!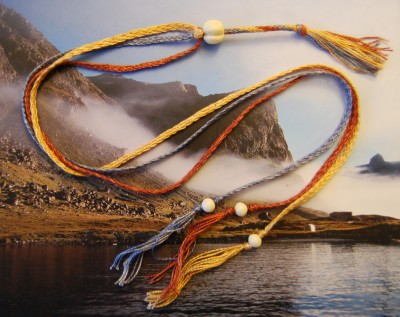 Time goes fast! This fall we have been most travelling. The cushion with pattern darning is done, but I have decided not to wash and full it until the cushion with the other pattern from Gotland also is done.
Lia de Thornegge got a rigid heddle from Martin. And she made a innovative bookmark with THREE strands. First she wove some cm with the rigid heddle and 3 x 5 loops. Then she took them out and braided the strands. Such a good idea must of course be tested!