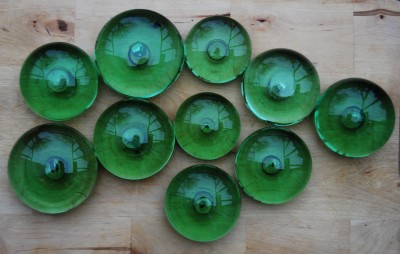 I dag hämtade vi nya glättstenar från Visby glasblåseri. Christer Mattsson har gjort nya till oss och de är de bästa hittills. Två hade han själv tagit undan och han sa: Förr skulle de också varit godkända, men inte nu.
Glättstenarna är av grönt, återvunnet glas. Vi har fått vänta ett tag, för ibland ska Christer göra glas i blått, eller i en annan färg, men nu var det grönt som var på gång. Och han kom ihåg att vi ville ha ett antal glättstenar.
Flera av glättstenarna har redan blivit tingade, när vi skrev om dem på face book i kväll. Vi tycker det är trevligt att det är flera av dem som håller på med historiskt återskapande som vill ha de här glättstenarna.
Glättstenarna är inga exakta historiska kopior. Men det finns en förlaga. Och den finns på Gotlands Museum och är daterad till vikingatid. För några år sedan fick vi låna den och gick till Christer Mattsson och han började att göra glättstenar åt oss. Med den här omgången som vi hämtade i dag har han kommit ännu närmare förlagans form. Den moderna glasmassan uppför sig nämligen på ett annat sätt än den historiska. Den stelnar snabbare och de nya glättstenarna sjunker inte ner lika mycket som de gamla. Men i dag var formen på de nya stenarna mycket närmare vår förlaga än tidigare.
Åsa har förra våren använt glättsten när hon gjorde linneduken till stormannens kammare. Själv har jag också en gång strukit prästkaftanens linneelva på samma sätt med en glättsten.
Today we got new smoothing stones from Visby Glasblåseri. Christer Mattsson has made new ones for us and they are the best ever. Two of them he himself put away saying: Earlier those would pass, but not now.
The smoothing stones are made of green, recycled glass. We had to wait some time, for Christer use also other colours than green, but now he had worked with the green. And he had remembered us and our stones.
Several of the stones are already been asked for, when we wrote about them on face book this evening. We noted that there are several of our friends, who are historical reenactors, wanting to have those stones.
The smoothing stones are no exact historical copies. But there is an original stone. You find it in Gotlands Museum and it is dated to the viking time. Some years ago we were allowed to borrow it and went to Christer Mattsson with it and he began to make smoothing stones for us. With the set of stones today he has come even closer to the original form. The modern glass mass will not behave as the historical one. It stiffen faster and the new stones will not sink as the old ones. But today the form of the new stones were much closer to the the original than before.
Åsa used a smoothing stone last spring when she made the linen cloth for "stormannens kammare". I myself once used a smoothing stone to smoothe the linen collar to my priest talar.