I vävstolen just nu: en 160 bred mellangrå varp i filtgarn 6/2. Det grå garn som fanns hemma räckte till en varp för fyra långa filtar. Utmaningen är att väva tvärrandig filtar efter manuskriptbilder. OCH med de garner som finns hemma. Det ska bli fyra helt olika filtar.
In the loom just now: a 160 cm width in reed light grey wollen warp, 6/2. The yarn I had at home was enough for a warp to four blankets. The challenge is to weave striped blankets after manuscript pictures. AND with yarns I have at home. It will be four different blankets.
Det här är den första – This is the first.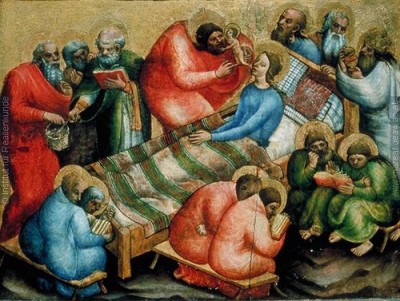 Death of Mary Tempera painting wood ; Furniture sacral ; Winged Altar ; by "Habsburgischer Hofmaler" ; Vienna ; 1370 ; 1372 ; Innsbruck ; Austria ; Tyrolia ; "Landesmuseum Ferdinandeum Leihgabe Stift Wilten.
Först tänkte jag att botten får bli ljust grå, men efter en titt i garnhyllan fanns där 500 g ljust rosa garn! Vad som behövdes för bottenpartierna.
At first I thougt that the bottom would be a very light grey, but then I found 500 g of a light pink yarn! Enough för the bottom.
Så här ser det ut i vävstolen – This is a picture from the loom


Filtarna vävs i 4-sk kypert. Men jag har solvat på 8 skaft för att försöka få med de små vita prickar som finns i en del bilder.
I am weaving in a 4 shaft twill, but I have threaded it on 8 shaft in an attempt to weave the small white spots you can see in many manuscript.