I manuskriptbilder och på skulpturer ser man ofta de avlånga krusdoken, som svepts runt huvud och axlar på många olika sätt. Eller som lagts i dubbla lager och lämnar halsen bar. Samma avlånga dok kan alltså bäras på flera olika sätt. Ofta har de här doken en mycket liten och svagt krusad kant. Det har diskuterats om det är påsydda eller vävda krus.
I rapporten Textiles from Burgos Cathedral (Camilla Luise Dahl, Marianne Vedeler, Concha Herrero Carretero) beskrivs ett antal långa, smala (11-18 cm) band, vävda i silke och med veckade eller krusade kanter. Det här är inte slöjor, utan snarare är det huvud- eller kindband.
Det är en variation i hur kanterna ser ut. Men huvudsakliga har de tjockare trådar i kanterna, ibland enkeltrådar, ibland dubbla trådar. Inslaget är samma som i den tunna varpen.
Även om det inte är den här sortens textilier som jag vill väva, utan linneslöjor med krusad kant, så visar de här textilierna så tydligt hur man kan konstruera den krusade kanten att jag går efter den.
Det jag vill väva är en linneslöja med en liten krusad kant – 50 cm bred med krus på båda sidorna och 150 cm lång.
Jag har ett fint lingarn 28/1. Med det har jag för ett år sedan provvävt med olika täthet och med olika sätt att krusa kanten. I de spanska sidenvävnaderna var tråden i kanten 1,5–2 gånger så tjock som i mittpartiet. Lingarn 16/1 stämde därför bra till kanten.
I det första krusdoket, som jag nu vävt, är kanttrådarna enkla och det är samma täthet i kanten som i mittpartiet. Det innebär att kanten blir tätare och mer kompakt.
Kanttrådarna varpas för sig. De dras inte på tillsammans med den övriga varpen, utan får hänga lösa bak på vävstolen, upplindade på en spole på var sida. Vid provvävningen visade sig att två damastlod var en lämplig tyngd.
Kruset bildades genom att jag vävde ett antal inslag (här 14). Efter det så drog jag ner kanten, så att inslagslinjen blev rak igen och fixerade med en nål. Så vävde jag samma antal inslag igen, drog ner kanten och flyttade nålen.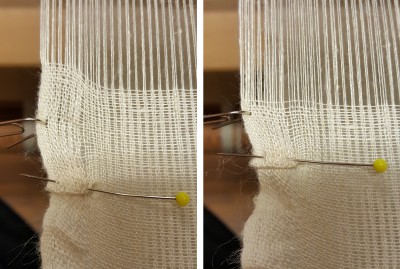 Den lilla kroken, gemet, håller ut kanten så att jag inte behöver hålla ut kanttrådarna med fingrarna. Den kom jag på efter att ha vävt 50 cm. Den har ett snöre och en tyngd och hänger över kanten på vävstolen.
Själva vävsättet är enkelt, tuskaft (plain weave). Svårigheten ligger i att hantera de lösare kanttrådarna. Genom att ändra spänningen mellan bottenväven och kanterna kan man krusa mer eller mindre.
Här är kruset efter tvätt och strykning av mittpartiet. Kruset borde gå att vecka.
Det finns varp kvar i vävstolen till ytterligare ett dok. Då ska jag väva ett krus med dubbla trådar.

Often you can see the long frilled veils on manuscript illuminations and on sculptures. The veils are draped around head and shoulders in different ways. They can also be worn in double layers leaving the neck unveiled. The same long veil can be worn in many different ways. The veils have often a small and slightly frilled edge. It has been discussed if the edge is sewn on the veil or if it is a woven frilled veil.
The report Textiles from Burgos Cathedral (Camilla Luise Dahl, Marianne Vedeler, Concha Herrero Carretero) describes some long, narrow (11-18 cm) woven silk ribbons, with pleated or frilled edges. These are no veils but rather head or cheek ribbons.
There is a variation of the edges. But mainly they have thicker yarn in the edges, sometimes single threads, sometimes double threads. The weft is the same as the warp in the main weave.
This is not the kind of textiles I want to weave. I want to weave frilled linen veils. But these textiles show clearly how to make a frilled edge. So I go along with it.
My weaving project is a linen veil, 50 cm width, with a small frilled edge on both sides and with a length of 150 cm.
I have a fine linen yarn 28/1. Last year I made some samples with varying closeness and frilling the edges in different ways. In the spanish silk weavings the thread in the edge was 1,5-2 times as thick as the main weave. Linen yarn 16/1 will therefore be fine for the edge.
The first of the frilled veil now woven has single yarn in the edges. The edge and the main weave are of the same set. This means, that the edge will be thicker and more dense.
The threads for the edge are warped separatly and will hang loose at the far end of the loom, winded on a reel on each side. Two damask weight were enough.
The frills were made in this way. I weaved 14 wefts, pulled the edge so the weft line again became straight, and fixed it with a needle. Again I weaved 14 wefts, pulled the edge and moved the needle.
The small hook, the paper-clip, straighten the edge so it was no need for me to hold it in with my fingers. It took me 50 cm of weaving to find out. The paper-clip is attached to a string with a small weight hanging over the side of the loom.
The weaving manner is quite simple. It is a plain weave. The difficulty is to handle the loose hanging threads for the edge frills. Changing the tension of the main warp and the edge warp you can make the edges more or less frilled.
The frilled veil washed and after ironing of the main weave. It could be pleated.
There is some warp left in the loom enough for another veil. I will weave a veil with double threads edges.