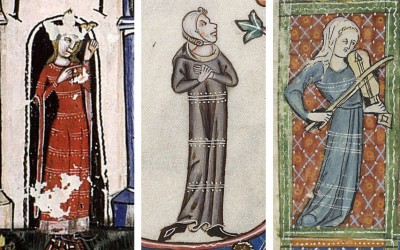 Vi börjar året med ett gemensamt projekt. Det påbörjades i höstas med provvävningar.
We will start the new year with a project together. Actually it started last fall with some weaving of samples.
I en del manuskript hittar man bilder på kjortlar med bårder som består av ränder och prickar. De finns på både mans- och kvinnoplagg, på kjortlar och mantlar. Bilderna här ovan är från tre olika manuskript – alla från den första halvan av 1300-talet – en kvinna i en mer "fin" kjortel, en man med coif i en enklare dräkt och en kvinnlig musikant. Än så länge har vi hittat fem manuskript med liknande tyger. Bårderna är lite olika i sina utformningar.
In several manuscripts you can find pictures of dresses with stripes and dots, on mans clothings as well as on womens, on dresses and on hoods. The pictures above are from three different manuscripts – all from the first half of 14th century. A woman wearing a more "noble" dress, a man with coif in a simpler dress and a woman musician. Up til now we have found similar fabrics in five manuscripts. The bands differ slightly in style.
Min del i projektet är att ta fram tyget, Martins att studera manuskripten – vad det är för manuskript, vilka personerna är som bär de här dräkterna, hur andra bilder är utformade. Om det går att komma fram till att det är verkliga tyger eller om det bara är ett sätt som illuminatören valt för att dekorera manuskriptet, det vet vi inte nu. Om vi kommer fram till att "pricktygerna" inte är bilder på "riktiga dräkter" så får jag väl välja att väva enbart randade tyger!

My part in the project is to produce the fabric, Martin´s to study the different manuscripts – what kind of manuscript is it, who the persons wearing them were, comparing with other people in the presentation. If it is possible to settle that it is real fabric or only a way for the illuminator to decorate the manuscript, that we do not know at the moment. If the outcome will be that "dotted fabrics" not are images of "real cloth", then I suppose I will choose to weave just striped fabric instead.
Jag har i alla fall provvävt för att få fram en kvalité med de entrådiga garner som finns att köpa här hemma. För jag utgår från att det är vävda bårder, inte broderier. Jag har testat tre olika tätheter på varpen och alla tre är valkade i träbalja vid samma tillfälle. Provvävningen har också gett en del andra tygkvalitéer. Tygerna med prickar är alla tuskaftsvävar.

Anyhow, I have already woven samples to get a quality, with single yarns affordable here at home. I will assume they are woven bands, not embroderies. I tested three various setts in warp, all three woven samples are fulled in a wooden tub at the same time. The samples has also given me some other fabric qualities. The dotted fabrics are all plain weave.
Nästa steg blir att välja ut den jag tycker är bäst och väva lite större stycken med olika varianter och färger.
In the next step I will choose the one I liked best for weaving bigger samples, with a variety of patterns and colours.
De här bårderna finns även på inredningstyger. Här ett exempel på en filt.
Those striped and dotted bands are seen on furnishing textiles as well. Here is a blanket as an exemple of that.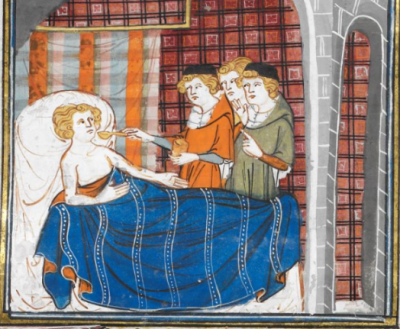 Så finns ju också alla dessa kanter på kjortlar och hättor som diskuteras då och då.
And also! There are all these edgings on skirts and hoods discussed now and then.
Fortsättning följer.
To be continued.