De Nobilitatibus Sapiencijs et Prudencijs Regum består av 140 stora, illuminerade sidor. Jag har räknat till 16 kapitel, plus inledning till verket. Varje kapitel inleds med en halvsidesstor vinjett, en anfang och så rubriken i rött. Det är ju därför det heter rubrik. Den här strukturen underlättar för att studera ett sådant manuskript.
De Nobilitatibus Sapiencijs et Prudencijs Regum contents 140 large, illuminated pages. I have counted 16 chapters and an introduction to the opus. Each chapter begins with a large half page vignette, an initial and the heading in red. Latin: rubric = red. This structure make it easier to study a manuscript like this.
De Nobilitatibus är en lärobok i hur det är att vara kung, en kungaspegel, som gjordes 1326. Det året finns till och med i inledningen på sidan 5. Nu blir det läsövning i medeltidslatin:
De Nobilitatibus is a manual in How to be a king, a royal mirror, made in 1326. That year is also written in the introduction on page 5. Here comes a practice in medieval latin:
Hic incipiunt rubrice capitolurum huius libri de nobilitatibus sapiencijs et prudencijs regum editi ad honorem illustris domini edwardi dei gratia regis angelie incipientis regnare anno domini ab incarnacione milesimo tricentesimo vicesimo sexto.
Texten finns under bilden av en ung kung – han bör väl vara sådär 15 år här – som sitter som centralfigur med krona på huvudet och en falk på handen. På varje sida står en falkenerare med lika kraftiga handskar som kungen. Och de bägge har tvärrandiga långa dräkter med linjer och prickar.
The text is to be found below the image of a young king – he is about 15 here – sitting as the central figure with a crown on his head and a falcon on his hand. On each side there is a falconeer with gloves as robust as the king´s. And they are wearing cross-striped dresses with dots and lines.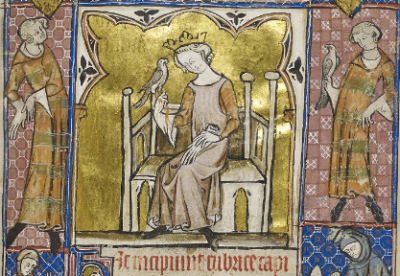 BILD sid 5
Det är ju på grund av detta slags tyger som vi undersöker De Nobilitatibus och andra manuskript.
It is because of this types of dresses we examine De Nobilitatibus and other manuscripts.
När det gäller De Nobilitatibus vet vi inte bara när det är utfört, utan också av vem. Det står skrivet "Suus humilis et devotus Walterus de Milemete clericus". I marginalen har någon skrivit "Author".
As for De Nobilitatibus we not only know when it is written, but also by whom. It is written "Suus humilis et devotus Walterus de Milemete clericus". In the margin someone has added "Author".

BILD sid 21
Den unge kungen, som Walter de Milemete fick uppdraget att skriva en kungaspegel för, är Edward III (1312-1377), son till kungen av England Edward II (1284-1327) och Isabella Capet (1295-1358), Filip IV den skönes av Frankrike dotter.
The young king, for whom Walter de Milemete got the mission to write a royal mirror, is Edward III (1312-1377), son to the king of England Edward II (1284-1327) and Isabella Capet (1295-1358), daughter of Philippe IV le beau, king of France.
Filip den sköne dog 1314 och efterträddes i tur och ordning av sina söner på Frankrikes tron: Ludvig X, Filip V, Karl IV. När den tredje dör utan arvingar 1328 är det dags för 100-årskriget att börja. Och där kommer Edward III att bli en av aktörerna, som dotterson till Filip IV
Philippe le beau died in 1314 and was succeded by his sons in order: Louis X, Philippe V, Charles IV. When the last dies without heirs in 1328 it is time för the Hundred Years War to begin. And there Edward III will be one of the actors, as the daughter´s son of Philippe IV.
Barbara Tuchman beskriver Edward i En fjärran spegel på sid 85 så här: "Han var välbyggd och kraftig … gemytlig och fåfäng, vänlig, egensinnig och inte främmande för det sämsta hos människan. … Han ägde insikter i praktisk politik utan att äga större insikter i härskandets konst … älskade nöjen, strider, ära, jakter, torneringar och slösande festligheter."
Barbara Tuchman describes Edward in A Distant Mirror in this way: "He was well built and vigourus … of good humour and vanity, kind, headstrong and not unfamiliar with the lowest in human. … He had insights in practical politics without deeper knowlege in the art of sovereign … very fond of amusements, fighting, hunting, tournaments and wasteful festivity."
De Nobilitatibus är just en lärobok i härskandets konst. Om man får tro att Tuchman har rätt, så har inte Edward läst så noggrant i boken han fick när han blev kung.
De Nobilitatibus is in fact a manual in the art of sovereign. If we will trust Tuchman Eward did not study the manual he got beeing a new king very close.
Verkets inledning avslutas med en Kristoferbild. Helgonet, i tvärrandig kjortel, står i flodens vadställe med Kristusbarnet på sin arm. Kristofer betyder Den som bär Kristus. Ska den här bilden kanske påminna kungen att han är trons försvarare i sitt rike? En aspekt på att vara Rex Dei Gratia?
The introduction of the opus ends with an image of Christofer. The saint in a cross-striped kertel is standing in the ford in a river with the Christchild on his arm. Christofer means He who bears Christ. Perhaps this image will remind the king of his duty as defender of faith in his kingdom? An aspect on beeing Rex Dei Gratia?

BILD sid 8
Efter en helsidesbild där kungen, med krönt hjälm, tar emot sin sköld av Sankt Georg, Englands skyddspatron följer ett helt uppslag med erövrandet av Kärlekens Borg. Vänstra bilden upptas av fyra riddare i rustning till häst som rider uppför kulle. Högra bilden visar en borg på höjden som försvaras av fyra damer: en med armborst, en med långbåge, men de skjuter blommor. De två utan vapen kastar sina blommor från torntrappan och över muren. Se att damerna har dräkter med ränder och prickar.
After a whole page image where the king with a croned helmet receives his shield by Saint George, patron saint of England, follows a double page spread with the conquering of the Fortress of Love. On the left page we see four mounted knights in armour ascending a hill. On the right page we see a castle on the hill top defended by four ladies, one with a cross bow, one with a longbow, but they are shooting flowers. The other two are throwing their flowers from the tower stairs and over the wall. Note that the ladies are wearing dresses with dots and lines.

BILD sid 10-11
Nästa sida är en helsidesbild med kungen och drottningen sittande på en gemensam bänk. Bägge har prickad kantning på sina (fodrade?) plagg. Notera att färgen på överplagg och underplagg är tvärtom på kungen och drottningen! Nederst på sidan finns deras sköldar. För kungen är det Englands leoparder, för drottningen en kluven sköld med leoparder och Frankrikes liljor. Någon sentida har under sköldarna skrivit "Edwardus III Rex Angliae & Isabella filia Philipii Pulchri Regis Franciae". Därefter har någon rättat III till II!
Next comes a whole size page with the king and the queen on a joint seat. Both have dotted edges on their (lined?) robes. Note that the over and under dress on the king and the queen are switched! The bottom of the page view their shields. For the king it is England´s leopards, for the queen a clefted shield with leopards and the lillies of France. A later hand has written below the shields "Edwardus III Rex Angliae & Isabella filia Philipii Pulchri Regis Franciae". After that someone has changed III to II.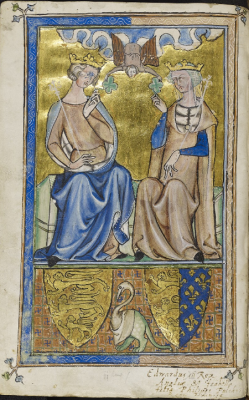 BILD sid 12
Här finns det som upptagit forskarnas intresse. Är det kungens föräldrar som avbildas, eller är det kungen och hans mor? Har verket redigerats på grund av att kung Edward II avsattes och dog (mördades)? Det är en fråga som har diskuterats. Vi är här mest intresserade av dräkter med linjer och prickar.
Here is what has occupied the interrest of the scolars. Is this an image of the kings parents, or is it the king and his mother? Has the opus been edited due to the deposing and death (murder?) of Edward II? That´s a question being discussed. We are here mostly interrested in the dresses with dots and lines.
Det finns prickade kanter på huvudfigurernas dräkter, som annars är helt släta och sidenaktiga, men prickar, linjer och ibland cirklar finns endast på bifigurer och på marginalgestalter. Framför allt två sidor i verket har gestalter med dräkter med sådana tyger som vi studerat.
There are dotted edgings on the main figuers dresses, mostly plain and silky. But dots, lines and sometimes circles are seen only on side figures and marginal ones. Above all there are two pages in the opus with figures in dresses of such cloth we have studied.
Kapitlet "De moralibus" inleds med en vinjett med kungen i mitten och med en biskop och en rådsherre på var sida. Bilden omges av ett musiksällskap, där alla fyra har linjer, prickar, cirklar på sina dräkter.
The chapter "De moralibus" begins with a vignette with the king in the middle and with a bishop and a counseller on each side. Around the image there is a group of musicians, all in dresses with lines, dots and circles.

BILD sid 106
Vinjetten som inleder "De regis misericordia" har gestalter i dräkter med ränder och prickar. Två lyktbärare(?) omger bilden av kungen som lyssnar på två advokater som har sina fängslade klienter knäböjande inför kungen och vädjar om barmhärtighet. Änglarna nederst på sidan håller kungens och tronföljarens sköldar och har ett annat slags dekor av prickränder. Änglarnas dräkter tycks bestå av lager-på-lager.
In the vignette introducing "De regis misericordia" there are also figures in dresses with lines and dots. Two torch(?) bearers flank the image with the king listening to two lawyers who have their bound clients kneeling before the king, appealing for mercy. The angels on the bottom of the page are supporting the king´s and the heir´s shields. The angels have a different kind of dotted and striped clothings. Their dresses seems to consist of layers on layers.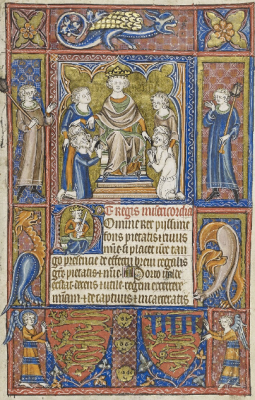 BILD sid 119
Längre fram i verket ser man ofta soldater med randade tabarder, ibland med prick-ränder, men de bilderna är inte så detaljrikt utformade.
Further on in the opus there is often seen soldiers wearing cross striped tabards, sometimes with lines and dots, but those images are not so fully shaped in details.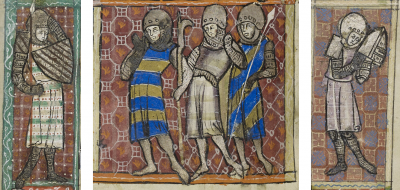 BILD sid 129, 125, 138
Ramarna med illuminationer runt omkring textfälten består till att börja med av dekorativa element med dubbla sköldar nederst på sidan, ibland finns det väpnare till vänster och höger i marginalen. Från och med sidan 61 börjar vimlet av musiker, fabeldjur, bågskyttar, jaktscener i marginalerna. I det sextonde och sista kapitlet "De prelijs regis et prudencijs in bellis" ser man på de flesta sidor i nedre marginalen riddare som drabbar samman i strider mot varandra till häst.
In the first part the illuminated frames around the text consists of decorative elements, with a pair of shields at the bottom of the page, sometimes there are men in arms to the left and right in the margin. Beginning with page 61 the crowd of musicians, fabulous beasts, archers, hunting scenes appear in the margin. In the sixteenth and last chapter "De prelijs regis et prudencijs in bellis" there are seen on most of the pages mounted knigths having an encounter in the bottom margin.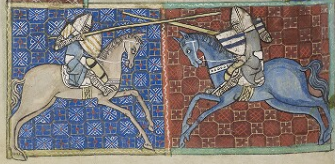 SIDA 126
Jag vill också visa på avsnittet "Declaratio epistole regis", även om det inte finns några prick-randiga dräkter på den sidan. Kungen blir i det här avsnittet undervisad av filosofen Aristoteles. Kanske som en introduktion, för Walter de Milemete gjorde samtidigt även ett andra verk, med namnet Secretum Secretorum, men det tar vi upp i ett kommande inlägg.
I will also point on the chapter "Declaratio epistole regis", though there are no dresses with dots and lines on that page. The king are here lectured by the philosofer Aristotel. Perhaps this can be an introduction; Walter de Milemete was at the same time producing a second opus with the title Secretum Secretorum, but that opus we will study in a contribution to follow.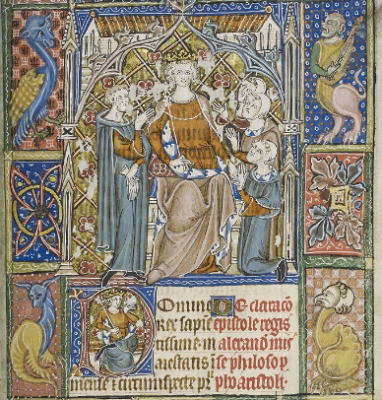 BILD sid 103
Den första bilden i boken var en kungabild. Det har varit många sådana bilder. Den sista illuminationen efter 140 sidor är bilden av en pot de fer. Det är den allra första avbildningen av ett sådant eldvapen, säger man visst. Kanske finns det här ett förebud om vad som komma skulle i de följande hundra åren?
The first illumination in the opus was an image of the king. There were many such images following. The last illumination, after 140 pages, is an image of a pot de fer. This is the very first representation of such a fire-arm, it is said. Perhaps we here can see an omen of the events in the hundred years to come?

BILD sid 144