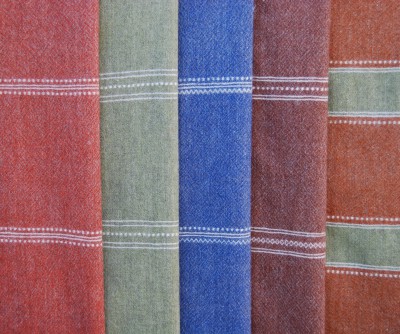 Efter den första provvävningen (Läs om det HÄR), valde jag ut fem bilder ur manuskripten som mina förebilder och vävde fem större stycken, ca 54 x 100 cm med olika prickar och ränder. Bilderna är hämtade från The Gorleston Psaltar och De Nobilitatibus Sapiencijs et Prudencijs Regum. Martin skriver om manuskripten HÄR och HÄR.
Alla med enkel Möbelåtta 8/1 som varp och Kampes 6/1 i inslag. I de här proverna är det samma avstånd mellan bårderna.
After weaving the first samples (se HERE), I choosed five images from the manuscripts as prototypes and weaved five larger pieces, ca 54 x 100 cm, with different dots and lines. The images are from The Gorleston Psaltar and De Nobilitatibus Sapiencijs et Prudencijs Regum. Martin writes about the maucsrips HERE and HERE.
All are weaved with single Möbelåtta 8/1 in warp and Kampes 6/1 in weft. I choosed the same distance between the borders in all the samples.
Är det i manuskripen avbildade tyger eller är det illuminatörens lust att dekorera? Vi väntar med analysen tills vi gått igenom de sista manuskripten.
Is it representions of fabrics in the manuscrips or is it the illuminators desire to decorate? We will wait with the analazys until we have gone through the last manuscripts.