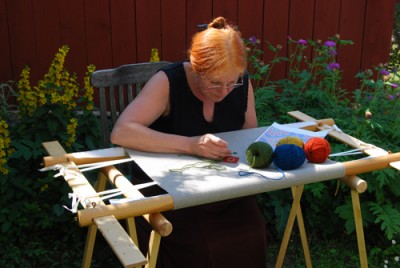 Vävsömsprojektet
Det tog tre försök att få den blå färgen rätt. Tur att museets magasin ligger så nära! Tack till Lena och Raymond som öppnat och släppt in mig.
Tyget är nu uppspänt i broderramen och broderiet påbörjat. Martin har gjort två träbockar. Det här är ett roligt broderi. Men mer får jag inte göra nu. Det ska packas ihop och följa med till Bornholms middelaldermarked.
I had to make three attempts with the blue colour. It´s good that the museum is near!
The fabric is now stretched in the embroidery frame and I have started the embroidery. Martin has made two wooden trestles. Now I will take it with me to the medieval market on Bornholm.