I våras blev jag tillfrågad om jag ville brodera ett av djuren till Mervis Laurelhätta. Naturligtvis sa jag JA! Från manuskriptet vi fick valde jag en svan. Naturligtvis med tanke på Merry Swan.
Det var länge sedan jag gjorde ett fritt broderi. Och hade inte heller mycket tid att hitta rätt sorts broderimaterial. Ett vitt ylletyg fanns och så fick det bli olika sorters vävgarner i ull och silke.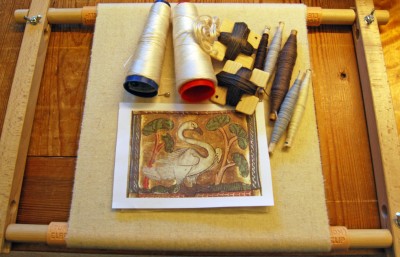 Last spring I was asked to make an embroidery for Mervis Laurelhood. Of course I said YES! And from the manuscript we got I took the swan – Merry Swan!
It was a long time since I made an embroidery that wasn´t a counted embroidery. And had not much time to find the proper yarns. I had a fabric in white wool and different weaving yarns in wool and silk.