Beskrivningen av dynan/dynorna på Gotland museum finns HÄR
Nu broderar jag på den andra dynan. När man ser den så verkar det omöjligt att urskilja ett mönster. Hela dynan är så missfärgad. Man kan se att det är ett gult mönster med en del blått. Men på baksidan syns mönstret och det blev möjligt att rita av hela mönstret.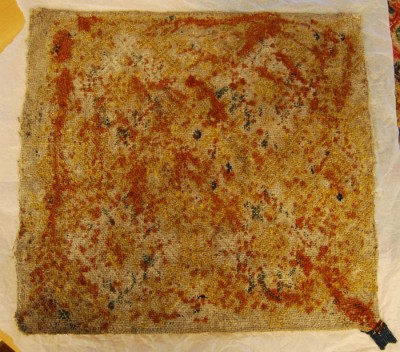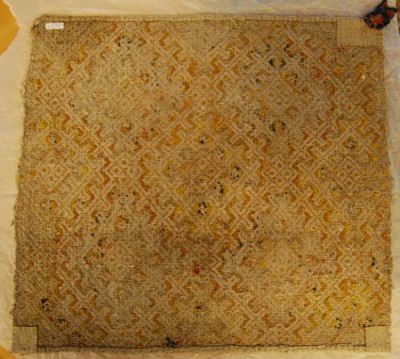 Vad jag kunde se så var det en gul färg och en blå, samma som på den första dynan. Men när jag på mina foton granskade baksidan för att se hur jag skulle brodera upptäckte jag att det nog var TVÅ gula färger. Tillbaka till museet och nu när jag fått upp ögonen så kunde jag tydligt se att en del partier var med en mörkare gul. Det syns enbart på baksidan.

Så en del av det gula garnet fick färgas över. Den första blev för mörk, men vacker. Den kunde vara färgad med bladen från valnöt. Den måste användas till något! Nästa såg ut att vara rätt och ett nytt besök på museet bekräftade det.

Ungefär så här kan dynan ha sett ut

You find the description of the cushion/cushions HERE.
Now I am embrodering the second cushion. When you see it, it seems impossible to make out a pattern. The whole cushion is discolored. You can see that it is a yellow pattern with some blue. But on the reverse side you can see the pattern and it was possible to draw the whole pattern.
As I could see it was one yellow colour and one blue, the same as on the first cushion. But when I examined my photos to see how to embroider I discovered that it must bee TWO yellow colours. Back to the museum and now, when I have had my eyes opened, I could clearly see that some parts was in a darker yellow. You could only see it on the reverse side.
So – I had to make my yellow yarn darker. The first become too dark, but beautiful. It could have been dyed with leaves of walnut. It must be used for something! The next looked to be correct and a new visit to the museum confirmed it.
The cushion could have looked something like this.