Förra posten om dynan finns HÄR
Historiska museet har bilder även på broderiets baksida. Föredömligt. Min baksida ser likadan ut. Bilderna visar att man fäst trådarna med knutar. Så har jag också gjort. Mina är större. Det intressanta är att samma sak har jag sett på dynorna på Gotlands museum.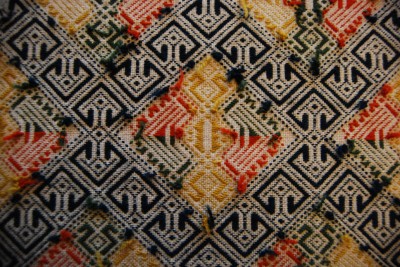 När jag såg knutarna kom jag ihåg vad jag lärde mig från en yrkesbordös. Hon beskrev hur man fäste trådar när man broderade i båge. Man kan ju inte vända en stor båge varje gång man ska fästa en tråd. Stick ner nålen genom tyget, snurra tråden runt nålen och dra igenom.
Dynan passar som bokdyna på altaret.

The last post about the cushion is HERE
In the Historical museum there are pictures also of the reverse side of the embrodery. Mine reverse side look the same. On the pictures you can see that the treads are fastened with knots. I have done the same. Mine are bigger. Interesting that I have seen the same on the cushions in the museum on Gotland.
When I saw the knots I remembered what I learned from a professional embroiderer. She described how to finish a tread. Run the needle through the fabric, put the thread round the needle two, three times and draw the needle to the reverse side.
The cushion is suitible for the altar book.