I juli gjorde jag ett ett litet testbroderi på råväven från Kerstins medeltidsmode. Jag försöker finna tyger och garner som finns i handeln och som är lämpliga till vävsömmen. Experimentet med råväven, broderad med entrådigt vävgarn, och sedan valkat, blev så pass bra att jag bestämde mig för att gå vidare med det.
Projektet blir en dyna med mönstret från Gotlandsdynan. Mönstrets proportioner blir ett annat än på orginalet. Om beräkningarna stämmer kommer dynan att bli ca 43 x 34 cm. Det blir fint till vår bänk som är 34 cm bred.

Vid ett besök hos Kampes Ullspinneri letade jag upp de färger som är mest lika orginalfärgerna. Naturligtvis kan man inte finna exakt samma färger, men här ville jag använda material som går att köpa.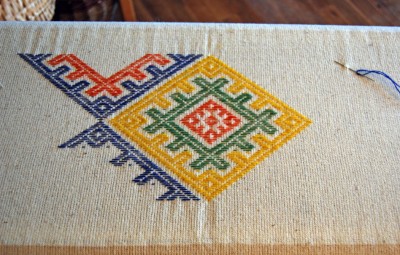 In july I made a little test to embroider on the raw weave from Kerstins medeltidsmode. I will use the fabrics and yarns that you can find in a store suitible for the pattern darning. The experiment with the raw weave, embroided with single ply weaving yarn, and than fulled, was good, so I decidied to go further with it.
The project will be a cushion with the pattern from Gotland. The proportions of the pattern will be different from the original. If my calcultion is correct it will be about 43 x 34 cm. It will be fine on our bench which is 34 cm.
When we visited Kampes Ullspinneri I found colours near the original colours. Of course it is impossible to find exactly the same, but here I wanted to use material you can buy.