Vi har i flera år
önskat att kunna återskapa en medeltida vävverkstad, där vävstol
och redskap är tillverkade efter medeltida förebilder, föremål
eller manuskriptbilder. Nu har önsketänkandet
blivit ett projekt!
For
several years, we've wanted to recreate a medieval weaving mill with
a loom and tools manufactured based on medieval models, artefacts, or
manuscript illuminations. Our wish has finally become a
project.
Det började så
smått med att jag* under vintern fick tillverkat** några skyttlar och
en spollåda. Skyttlar finns bl.a. bevarade från Novgorod. Mina har
lite olika former och de är mycket lika de äldre skyttlar utan
botten som fortfarande finns kvar. På många medeltida bilder ser
man redskapet för att spola garnet. En sådan spollåda har vi nu
och den fungerar alldeles utmärkt.
It
began on a small scale – during the winter I* had a woodworker** make
some shuttles and a winding box for me. Examples of medieval shuttles
have been found in places such as Novgorod; mine have varying shapes
and are similar to older shuttles with no bottom. You can see winding
boxes in many medieval pictures. We now have this type of winding box
and it works very well.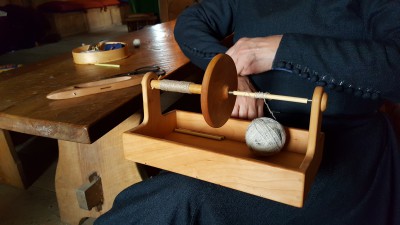 Men den stora
utmaningen var själva vävstolen. Den skulle tillverkas och utrustas
"medeltida". Vävstolen har vi planerat i flera år. Och
naturligtvis är det Naamas vävstol som är förebilden. Nu före
sommaren (2017) blev prototypen färdig. Den fick följa med till
Bornholm för att testas under våra veckor där. Naama är
tillverkad med sådana mått så att hon isärtagen får plats i
bilen.
The
greatest challenge was making the loom itself. The goal was to
manufacture and equip it "medievally". We had been planning
the loom for several years based, of course, on Naama's loom. We
finished the prototype this past spring (2017). We brought it with us
to Bornholm to test it during our three weeks there. When dismantled,
Naama's size allows her to fit into our car.
Den högra bilden tagen i Stormansgården på Bornholm. Foto: Peter Hollbaum-Hansen.
Naama blev utrustad
med två skaft med fasta solv. Provvarpen bestod av Möbelåtta
enkelt 8/1 som jag vet håller. Tätheten fick jag anpassa till de
rörskedar jag har. Inslaget är Kampes 6/1. Nu var ju inte det
viktiga att få till ett bra tyg, utan att få vävstolen att fungera
och visa oss vad som ska förändras och förbättras.
Naama
has two shafts with fixed heddles. The test warp was Möbelåtta, an
8/1 single that I know will hold as a warp yarn. The warp density was
adjusted to the reeds which I already have. The weft was Kampes' 6/1
single. It wasn't important to produce a good cloth at this point
but, instead, to get the loom to work and to show us what needs to be
changed and improved.
Principen är den
samma som med en modern vävstol, men det mesta uppför sig faktiskt
på ett annat sätt. Till en början luddade varpen så mycket att
jag trodde att det skulle bli nödvändigt att klistra den. I Naama
blev det större påfrestningar på varpen än då jag vävde med
samma garn i min stora vävstol. Efter konsultation med Marie Ekstedt
Bjersing så löste det sig. Det hela gick riktigt bra utan klistring
med lösare spänning och lägre skäl mm. Det blev till slut också
ett riktigt bra tyg, med en trevlig kvalité efter valkning.
The
weaving principle is the same as that for a modern loom but, in fact,
most things work differently. To start with, the warp pilled so much
that I thought that I would need to add sizing. Naama put more stress
on the warp when compared with weaving with the same yarn on my big
loom. Consulting with Marie Ekstedt
Bjersing helped me solve the problems. Sizing wasn't necessary with
looser tension, smaller sheds, and other adjustments. At the end, the
quality of the cloth was very good, with a nice hand after fulling.
I höst ska
vävstolen modifieras en del, tramporna ska fästas framtill som på
vår ursprungsbild, varp och tygbommar ska göras om, en lite bättre
spännanordning för tygbommen ska ordnas och en del annat. Och så
har jag knutit en ny omgång med kortare solv.
This
autumn the loom will be modified somewhat – among other things the
treadles will be fastened at the front (as in our original picture),
the warp beam and fabric beam will be reworked, and the tensioning
device for the fabric beam will be improved. I've also made a set of
new (shorter) heddles.
Någon gång i vår
kan vi berätta om Naamas vävstol version 1.1.
Next
spring we'll be able to share more about the Naama loom, version 1.1.
(translation: Randy Sklaver)
* Jag/I = Åsa
** woodworker: Skyttlar/Shuttles = Martin. Spollåda/Winding box = Lennart Olofsson.