I april 2018 genomförde Svenska Vävakademin ett arrangemang, som kallades "Från handkraft till fotkraft", på Julita. Som representanter för "fotkraften" demonstrerade vi Naama-vävstolen och Åsa höll ett av arrangemangets föredrag, om den medeltida horisontella vävstolen.
In April 2018 Svenska Vävakademin held a symposion, called "Från handkraft till fotkraft" (From Hand Power to Foot Power), at Julita. As representatives for "fotkraften" (the Foot Power) we demonstrated Naama´s Loom. Åsa gave also a speach on the medieval horisontal loom.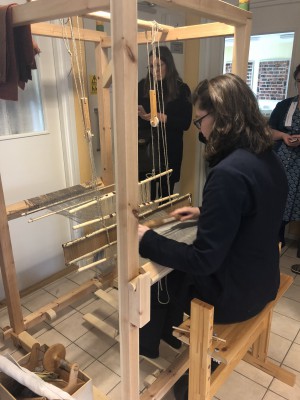 Amica Sundström väver på Naamas Loom. Foto Sara Kånåhols.