I S:t Martins kyrka i Halle finns ett glasfönder, som kallas Genesisfönstret, från mitten av 1400-talet, med en bild av en vävstol. På vävstolen hänger en liten ram med en spole med varpgarn.
In S:t Martins Church in Halle there is a stained glass window, named Genesis Window, from mid 15th century, with an image of a loom. On the loom there is a small frame with a spool for warp yarn.

Det här är en rulle med bötgarn. Om en varptråd brast under arbetet hade man garn till hands och man kunde genast bota med det garnet. En sådan hållare med bötgarn måste så klart Naama´s vävstol ha.
This is a spool with mending yarn (in swedish "bötgarn"). If a warp thread broke during the work, the weaver had a spool of yarn near at hands to quickly mend (in swedish "bota") the warp with that yarn. Naama´s Loom must have such a frame with "bötgarn".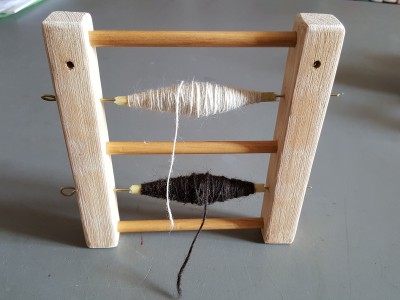 Det är två spolar i den här hållaren, för Åsa ska väva med flera färger i varpen i vår vävverkstad under medeltidsveckan i år på Gotlands Mueseum.
There are two spools in this frame, as Åsa will use more than one colour in the warp in our weaving mill during the Medielval Week this year at the Gotland´s Museum.