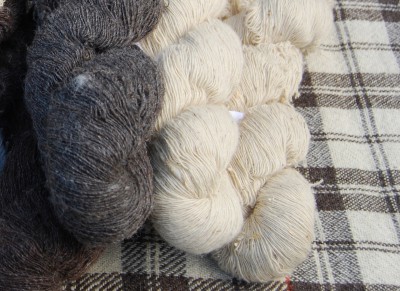 Hur definierar man ett garn? Garnnummer, så som vi är vana vid från vävböcker och garnförsäljare, ger inte en tillräcklig beskrivning. Mer adekvat är spinnvinkel, diameter och snoddriktning Z/S. Det är sådana uppgifter som arkeologisk litteratur använder.
Just nu undersöker jag ett antal garner från ett litet spinneri på Ösel. Jag mäter och provväver. Avsikten är att ta fram entrådiga garner och provväva kvalitéer som är lämpliga för medeltida vävar. Och att ta fram vävbeskrivningar.
Det är framför allt ett projekt inför Vävmassan 21-23 september 2017 i Växjö.
Jag kommer att skriva här om hur arbetet fortskrider.
How do you define a yarn? Yarn number, as we are used to from weaving books and from yarn vendors, will not give us the enough description. More adequate is angel of twist, diameter and direction of twist Z/S. As they do in the archaeological literature.
At the moment I examine some yarns from a small spinning mill on Saaremaa. I am measuring and weaving samples. The goal is to find out some single yarns and weave qualities, useful for medieval weaves. And to make weaving descriptions.
Most of all it is a project for the Weaving Fair 21-23 September 2017 in Växjö.
I´ll now and then write about this work in progress here on my blog.