Under ett par år har jag haft kontakt med ett litet spinneri på Ösel. Där har jag kunnat få entrådigt garn, både varpspunnet och inslagsspunnet. Det har varit svårt att få kontakterna att fungera, delvis på grund av språksvårigheter.
Det sista garnet jag fick, våren 2018, var grövre än de tidigare. Det var inte heller helt jämnt, med ganska mycket skräp i. Att väva beklädnadstyg, som jag gjort med en tidigare leverans, var inte att tänka på. Men garnet har en vacker brun färg.
I år, 2019, är det Battle of Wisby. Jag fick idén att jag kunde använda garnet till att väva enkla, grova soldatfiltar, lämpliga att använda i fält.
Det ena garnet är varpspunnet med hårdare snodd, det andra är inslagsspunnet med lite lösare snodd. Jag mätte mina garner för att beräkna antalet trådar/cm och hur många filtar garnet kunde räcka till. Jag behövde ta reda på meter/kg och garnets diameter.
Och jag fick de här värdena:
Varpspunnet 3062 m/ kg
Inslagspunnet 3556 m/kg
Båda garnerna har samma diameter – 1,25 mm
Jag jämförde med andra garner och med filtar jag vävt tidigare och satte upp en provväv, som jag sedan valkade. Tanken var att väva helt enfärgade filtar, med enbart en bård i överkanten. Det skulle vara olika bårder på alla filtarna.
For some years I have got in contact with a small mill on Saaremaa, Estonia. From there I have got single yarn, warp spun and weft spun. The contacts have been not so easy to maintain, partly due to language difficulties.
The last yarn I got, in spring 2018, was thicker than the previous. It was not so even, with some vegetable matter in it. To use it in weaves for clothing was not to think of. But the yarn has a beautiful brown colour!
This year, 2019, once again Battle of Wisby is held. I got the idea to use the yarn to weave some thick simple soldier´s blankets for camp use.
One yarn is warp spun with a harder twist, the other weft spun with a looser twist. I measured the yarns to calculate treads/cm and how many blankets the yarn would last for. I needed to figure out metres/kg and the diameter of the yarn.
I got this:
Warp spun 3062 m/kg
Weft spun 3556 m/kg
Both yarns have the same diameter – 1,25 mm
I compared with other yarns and with blankets I have made earlier and made a sample and fulled it. My idea was to weave some quite plain brown blankets, with small stripes on the top edge, different on every blanket.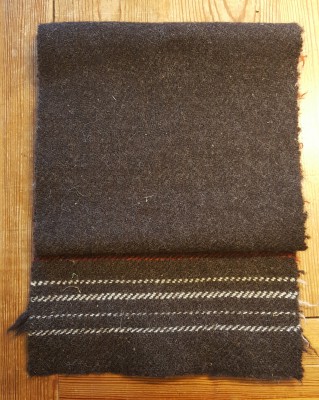 Nu kunde jag räkna ut min väv. Hur bred måste väven vara och hur långt måste jag väva i vävstolen för att till slut få den bredd och längd jag vill ha? Hur många filtar kommer garnet att räcka till?
Beräkningarna gav fyra filtar, som färdiga borde bli ca 1,35 x 2 m. För att få bredden 135 cm fick skedbredden bli 155 cm. Jag vävde filtarna 2,2 m i vävstolen.
Varpen räckte gott och väl. Det blev till och med en liten filt på slutet

Now I calculated my weave. How about the weaving width and the weaving length to get the result I wanted? How many blankets will the yarn last for?

My calculation resulted in four blankets, when finished 1,35 x 2 m. To get the width 135 cm the width in reed should be 155 cm. I must weave 2,2 m in the loom for each blanket.

The warp was quite enough. There was warp even for a fifth, small blanket in the end.
Inför valkningen fick hela väven plats i min stora balja. Efter ett antal timmars trampande hade den valkats ihop till den önskade bredden.
Därefter rullades väven, jag klippte isär, sydde en langettkant, sträckte filtarna så att de blev jämna och hängde upp dem för att torka. Halvtorra ångades de och helt torra fick de en översyn och borstades.

There were room for the whole weave in my great bucket. After some hours walking the weave was fulled to the wanted width.
After that the weave was rolled, I cut it, finished it with blanket stitch, stretched the blankets even and hung them up to dry. Half dried they were steamed, quite dry I looked them over and they were brushed.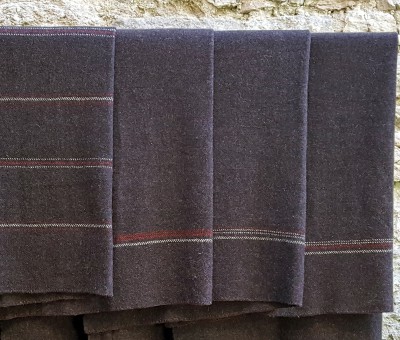 Så här blev resultatet:
Tre bruna filtar med en bård med vitt och rött, olika på alla tre, en tvärrandig. Storlek ca 133 x 192 cm.
Priser:
Filt med en bård: SEK 5 000
Tvärrandig filt: SEK 5 300

Here´s the result:
Three brown blankets with different stripes in white and red. One with stripes all over. Size about 133 x 192 cm.
Price:
Blanket with small stripes on one edge SEK 5 000
Blanket with stripes all over SEK 5 300